Administrator
Staff member
Joined

Jun 11, 2018
Messages

18
Likes

17
RSN

Arthur / Soric / Connad
Hi All,
As you may know, a much beloved rank of Ba Services, and member of the BA community WTF Monster, tragically took his own life in July of this year. Monster joined Ba Services in January of 2019, and in that time contributed towards the community in numerous ways, befriending many of us, making us laugh, and even going so far as to organise the second, and first standalone, Leech Race. That being an event he had a great deal of investment in, and one we intend to now make a routine event both in his memory, and to bring about the very renewal of Bas Events that Monster would have wanted.
In the aftermath of Monster's passing, it was a remarkable sight to behold in the world 306 lobby, where so many of us came together to mourn. We hope with this event that the community will get another opportunity to remember Monster, but also to celebrate the energy he brought to our collective lives by playing BA together.
It is with bittersweet pleasure that we announce that together with Casual Ba, Ba Services will be hosting the Monster Memorial Event on the 30th of November 2019, we hope you can make it.
Leech Races:
Event Details:
Date and Time: 19:00 GMT/ 7PM GMT November 30th, 2019
World: TBD
Duration: 2 Hours
What are leech races exactly?
Leech Races are just like regular BA races, only 1 person on each team will act as a 'leech', similar to how actual leeches work in Ba Services. The aim is still the same: get the fastest time, and beat the other teams. However, this 5th player, the 'leech', cannot contribute to the team in any way whatsoever. The one thing they are expected to do is to run to the western cannon at the start of every wave, and then AFK there.
How will leech races work?
Leech races will work in every other way just like regular races, as follows:
1. Referee will enter Wave 1 Lobby
2. All people willing to participate will stand on the NW most tile outside of wave 1
3. Referee will determine the amount of teams participating
4. Referee will nominate a captain for each team, and volunteers will first nominate and then be selected as each team's 'leech' - (If it is possible these will be event hosts, Bas stars, or community members who would normally have chosen to spectate)
5. Captains will select 3 teammembers each, one at a time, in an ABCCBA order. This is so the teams can be balanced out. When you are selected, enter wave 1 and stand behind your captain.
6. Teams will join the Captain's CC, and decide on roles.
7. When ready, teams will all stand on the NE most tile of the Wave 1 room, and the team scroller will stand next to the ladder.
8. Referee will ask for an AFK check before starting the Race, and then count down: 3,2,1,Go
9. The Race begins!
Whats the format?
This is not intended to be a competitive event, however, we will appropriate some Monster's design. The event will include 3 races, where the winning team of each round remains fixed, and the other teams are reselected for the following race. After the 3rd race, the top 3 teams remaining teams will face off in one final race, with hosts as their leeches, to determine a winner. There is no prize money for this event, and people shouldn't take any 'competitiveness' seriously. Remember why we're doing this, please no flaming.
Note: if a team wins more than one of the preliminary rounds, the highest performing team that hasn't already qualified will be selected.
We hope this will make the event more memorable, but the focus should always be on who we're doing this event for.
Mental Health Notice:
If someone you know is experiencing signs of depression or severe anxiety, we encourage you to check in with them about how they're doing, and forward some of the below relevant details onto them. If you yourself are experiencing any of these feelings, we encourage you to seek support from those closest to you, and perhaps professional help. In a lot of people's cases, professional help can be received freely.
Some key indicators that someone may be thinking about or planning to act upon their thoughts are:
-Threatening to hurt or kill themselves
-Hopelessness
-Rage, anger
-Seeking revenge
-Feeling trapped
-Increase in substance abuse
-Dramatic changes in mood
-Giving away possessions
-Withdrawing from friends and family If you encounter any of these behaviours, the best steps to take are to remain calm, listen more than you speak, validate their claims, and let them know that their situation is serious and deserving of attention. Encourage that there are outlets available to them where they can speak with trained medical professionals, and that seeking help is not a negative action.
Below are some hotlines you can pass along if an incident like this were to occur.
We also encourage you to pass any of these instances up to the star team, or senior figures in the community you trust.
USA National Suicide Prevention Hotline 1-800-273-TALK (8255)
Canada Suicide Prevention Service 1.833.456.4566
UK Samaritans Organization Number: 116 123 Website:
https://www.samaritans.org/
Australia Suicide Prevention Hotline: 13 11 14 Website:
https://www.lifeline.org.au
Befrienders Worldwide - A Global Suicide Prevention Organization
https://www.befrienders.org/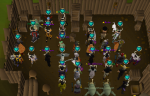 Thank you, and we look forward to seeing you all there.
In memory of WTF Monster,
-Ba Services and Casual Ba star teams
Last edited: